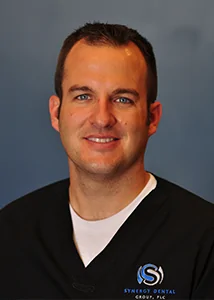 "What a team to be a part of!! I feel fortunate to have joined Synergy Dental Group and look forward to building relationships with the patients of this great practice and welcoming many more to come! I love what I do and feel blessed to help people achieve happy and health smiles!"
Dr Matt Ellingson was born and raised in north Mesa, graduating from Mountain View High School. He attended Arizona State University and graduated with a Bachelor of Arts degree in political science. Dr. Ellingson graduated from Case Western Reserve University School of Dental Medicine in Cleveland, Ohio in 2011, receiving honors for his clinical research. Dr. Matt and his family enjoyed their time in Ohio and at Case Western, one of the oldest dental schools in the country with a well-established and respected clinical program.
After receiving his DMD degree, Dr. Matt was commissioned as a Captain in the U.S. Army Dental Corps and stationed in Stuttgart, Germany with his family for 3 years. They loved their time in Europe and value the relationships forged with so many good people serving in the United States Armed Forces. While in Germany, Dr. Matt received factory training at many leading dental materials and equipment manufacturers, included multiple visits to Sirona Dental Headquarters where he received world-class training on the CEREC single visit crown system.
Dr. Matt strives to provide the best possible care to patients. He continues his education by attending lecture and clinical courses each year covering all facets of dentistry. Dr. Matt belongs to the following professional associations:
Spanish speaking patients will be glad to know Dr. Matt speaks Spanish which he learned while serving as a church volunteer in Peru. Family is Dr. Matt's biggest hobby, but he also loves the outdoors, motorcycles, and taking care of his yard.