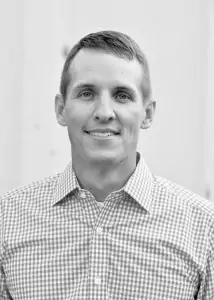 "It is an honor to be a dentist and to, literally, help people smile. I love being of service to those around me, and forming genuine friendships and relationships of trust with those I treat. As a family dentist, I feel fortunate and enjoy seeing generations of a family: children, parents, and grandparents. It is a great compliment that our patients refer and entrust us with treating those they care about most."
Dr. David Ellingson is a native of Northeast Mesa, graduating from Mountain View High School in 1992. He attended Arizona State University and graduated with a Bachelor of Arts degree in Russian. Dr. Ellingson graduated from University of Washington, School of Dentistry in Seattle, Washington, in 2007 with a Doctor of Dental Surgery degree. Dr. Ellingson chose to attend the University of Washington School of Dentistry because of its reputation for producing top-notch clinicians. Dr. Ellingson excelled in school, and was selected by his classmates to receive the Dennis P. Duskin Inspirational Award in recognition of clinical excellence and personal integrity. This is the only peer-selected honor given during the entire four years of dental school.
Dr. Ellingson takes great pride in providing the best dentistry possible. He continues his education by attending over one hundred hours of lecture and clinical course work each year relating to the latest methods, materials, and research in dentistry. Dr. Ellingson participates in continuing education as a current member of the:
Dr. Ellingson and his wife, Auburn enjoy living just a mile from the practice. They have four children; Lily, Cannon, Benson & Davis.
Dr. Ellingson stays active in the community by volunteering at his church, with the Boy Scouts and the Special Olympics' Healthy Athletes Special Smiles program. Dr. Ellingson's hobbies include, mountain biking, home improvement projects, gardening, reading, and playing the piano.