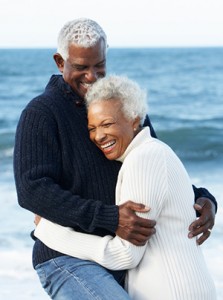 For those who are missing teeth, we offer both traditional dentures and implant supported dentures. Traditional dentures consist of a basic removable frame that holds artificial teeth. Implant supported dentures click in and out of dental implants, which are artificial tooth roots.
Traditional Dentures
If you would like to replace some missing teeth and enjoy a full and complete smile, we offer both full and partial traditional dentures at Synergy Dental Group.
A full set of dentures is composed of a colored base that blends in with the gum tissue flawlessly. This piece creates a seal with the gums to keep the dentures in place. Connected to this base is a full set of beautiful, porcelain replacement teeth.
Partial dentures consist of the same pieces as a full set of dentures–a base and replacement teeth. The number of teeth that you need replaced are attached to the base and placed where they should be. Both full and partial traditional dentures are removable and can be taken in and out at your convenience.
Traditional dentures are a great option for those who want to benefit from a beautiful, complete smile again.
Implant Supported Dentures
Implant-supported dentures are installed and work a little differently than traditional dentures. To create implant-supported dentures, dental implants are placed directly into the gumline. Dental implants are small rods made from titanium alloy that function as replacement tooth roots. These replacement roots stimulate the jaw, which promotes jawbone health, and prevents gum disease and further tooth loss.
Once the dental implants have fused with the jawbone, an abutment—connector piece—is attached to the implants. The set of dentures is then connected to the abutment.
Implant-supported dentures are often considered to be more stable than traditional dentures and will never slip and slide around in the mouth. Implant-supported dentures can be permanent or removable.
Come visit us at Synergy Dental to see which denture option is right for you!